Gordon Tapper, Chairman of GTAH, gave the Keynote Speech on 'Art and Cultural Diplomacy at the United Nations' on Thursday 4 December at a meeting entitled "HUMANICY: THE HUMAN SIDE OF DIPLOMACY – At the Crossroads of Art, Diplomacy, and Heightened Consciousness". The two-day meeting which took place in the ECOSOC Chamber and Conference Room 4, United Nations Headquarters, New York, 4-5 December 2014.
"Humanicy: The Human Side of Diplomacy", a partnership of the Permanent Mission of Sao Tomé and Principe to the United Nations and the Friendship Ambassadors Foundation, Inc. (FAF), is a programme aimed at highlighting the role of culture, arts and humanities in shaping diplomacy. (For further information, please view their websites: www.humanicy.info OR www.faf.org )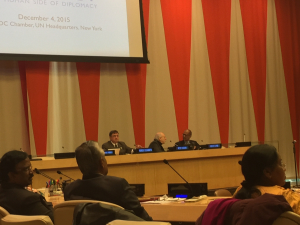 Following is the Keynote Speech:
Excellency Ambassador Toriello, Deputy Permanent Representative of Sao Tome and Principe to the United Nations, the co-organizers of this marvelous event, Patrick Sciaratta and Yin Chu Yu, the leadership of Friendship Ambassador Foundation, special participants in the HUMANICY programme, UN colleagues, Ladies and Gentlemen,
It is indeed a pleasure and an honour for me to be here with you today to speak about a subject that is dear to me – Arts, Culture and Diplomacy. For more than 15 years of my career at the United Nations I was responsible for coordinating Special Events – producing concerts with such famed performers as the New York Philarmornic Orchestra, PAVAROTTI, BONO, GILBERTO GILL, YUSOUF N'DOUR, ZIGGY MARLEY and THIRD WORLD – as well as hosting several Japanese Tea Ceremonies, exhibitions of IKEBANA and a host of other artistic expressions to promote peace amongst peoples, right here in the United Nations Headquarters complex. I even had the pleasure of coordinating a table tennis game between Chinese players and the UN Table Tennis Club, right next to these rooms in the Delegates Lounge, during the period of "Ping Pong Diplomacy" started by President Nixon and his Chinese opposite number Premier Chou En-Lai in the early 1970's.
Throughout my years at the UN I gained an appreciation of the immense value of Art in opening doors that were once closed to people who were 'different' or 'not like us' because of race, religion, culture, political systems or for a host of other reasons that extremists and bigots create to separate people.
I wish to applaud the effort of Ambassador Toriello and FAF for hosting this event – Art as a vehicle for Peace and Diplomacy.   It is a most timely intervention in a climate where people seem to have become even less tolerant of others with levels of cruelty and barbarism taken to unimaginable heights.
Our challenge today is to find a way to reach the most hardened opponent that we might have, not by guns and bombs but by our common appreciation for what is beautiful, for a universal unambiguous message delivered by a sculpture in marble, the painter's brush, the leap of a Baryshnikov, the heavenly tones of Maria Callas, the strings of Yo Yo Ma's cello, the black and white keyboard of Lang Lang's piano and even such great written works as the Bible and the Koran. That is our challenge. Guns may subjugate, but only understanding and appreciating another's culture can produce harmony amongst people.
But let me digress somewhat and tell you something about Art at the UN. Those of you who have had the opportunity to take a guided tour of the premises both inside and on the grounds will have seen that the UN has enough iconic and outstanding works of art to create a mini-museum. If you have not had that opportunity you should do so while you are here.
Many of the pieces displayed in the UN grounds and buildings need no words to explain what they are trying to say. It is you, the viewer who interprets the piece and decides what the message is. The words "They shall beat their swords into ploughshares" does not mean literally that but it is a message everyone understands just by looking at the sculpture.  St. George and the Dragon, with St. George on a rearing horse stabbing the dragon with his lance, is made out of a disarmed nuclear weapon, so it speaks to us of disarmament. The twisted gun barrel on the UN Plaza needs no explanation. One is not likely to forget images like these because they are not received passively. They invoke a reaction from the observer; they leave an impression.
Now let me tell you a little secret about gifts that are donated to the UN. Almost every UN Member State has donated one or more gifts, usually an art piece, to the UN.  In fact, this very room that we are meeting in today, the ECOSOC Chamber, was a gift from the Government of Sweden. Hundreds of other items are donated by individuals or groups. However, perhaps less than 30 % of all gifts are on display. The majority are hidden away in storage. There would not be enough space, perhaps even in the Louvre or the MET, to exhibit all of the gifts of works of art that have been donated to the UN. Gifts from Member States are not simply works of art, they are mostly an expression of how the country sees itself and wishes to portray itself to the world. In other words it is a way of projecting their culture.
Let me digress once again and tell you an anecdote relating to UN gifts and artwork. One is about the elephant that is at the north end of the grounds closest to the sidewalk on First Avenue. Residents of Sutton Place and the environs were upset about the elephant which seemed to have a very large organ. It was a troubling issue as many parents complained that their little children walking by would be asking what is that. The UN solicited the views of the Bronx Zoo which confirmed that all was normal. Not to worry.  Secretary General Koffi Annan at its unveiling made some humourous comments which I will not repeat, but suffice it to say the UN reached a diplomatic solution and planted tall grass around the elephant so as to obscure the offending appendage. Actually it looks pretty good like that.
Indeed, from what I have been saying it must be clear that Art can and does deliver a message that is often more powerful than words or political action. Art introduces people to other peoples and cultures that they previously knew little about or perhaps even opposed or feared on the basis of race, religion or culture. Art is a neutral medium for meeting without preconceived notions since images are universal and speak their own language.
I urge you to support cultural exchanges and to be open to the Art of people from all different persuasions as you will learn a lot and you will see that you have more in common than what divides you.
Thank you.
Tags:
ebola virus
,
FAF
,
Friendship Ambassadors Foundation
,
GTAH
,
Liberia
,
Liberian Community
,
Mohammed A. Nurhussein
,
Sao Tomé and Principe
,
Sidique Wai
,
Sierra Leonean Community
,
UN meeting
,
United African Congress
---