Give Them A Hand Foundation and United African Congress
Building Bridges Across Boundaries
Awards Luncheon
The Friars Club, 16 December 2015
Give Them a Hand Foundation (GTAH) and partnering organization, United African Congress (UAC), held their first Building Bridges Across Boundaries Awards at the famous and prestigious Friars Club in Manhattan on 16 December 2015. These awards are given to individuals within the Diplomatic Community who have worked to bring peoples of all different races, ethnic groups, faiths, cultures and national origins together in pursuit of harmonious co-existence.
As 2015 was the first year of the International Decade for People of African Descent, GTAH and UAC decided to make these awards to individuals who have worked to bring the peoples of the African Diaspora together and to help bring about a greater understanding and appreciation of a shared heritage.  The celebration was fast-moving and interesting, moderated by Gordon Tapper. Introductory remarks were offered by Dr. Mohammed Nurhussein, and closing thanks by Sidique Wai.
The recipients of the 2015 awards were Ambassador Tete Antonio, Permanent Observer of the African Union Mission to the United Nations, Ambassador Jean-Francis Zinsou of the Republic of Benin, Ambassador Anatolia Mba of Equatorial Guinea and Ambassador Tekeda Alemu of Ethiopia.  Since Ambassador Mba was unable to attend, H.E. Miss Isabelle Sima Abvomo, Chargé d'Affaires at the Equatorial Guinea Mission to the United Nations, accepted the award on his behalf.
In accepting his award, Ambassador Zinsou spoke about his role in the recently concluded discussions in the important Paris Conference on climate change, giving some inside information on the behind the scenes give-and-take which resulted in the positive decisions. Dr Judy Kuriansky, co-sponsor of the event and Friars Club host, showed a video from her visit to Sierra Leone during the 2014-2015 Ebola epidemic which affected Sierra Leone, Liberia and Guinea. Also speaking during the programme were Dr Edmund Bourke, Professor Emeritus of Medicine at SUNY Downstate Medical Center and father of Samantha Power, the US Permanent Representative to the United Nations; Honorable Patricia Gatling, Former Commissioner of Human Rights in New York City; Eric Edwards who has the largest private collection of African artifacts in the United States; Gary Schulze, Paramount Chief in Sierra Leone; Milton Allimadi, Publisher and Editor of the Black Star News; Richard Lue, Director of Marketing at VP Records; Jabati Wai, UAC member; and Sapna Lal, GTAH officer.
This very successful event was organized by Dr. Mohammed Nurhussein, Chairman of United African Congress, Sidique Wai, president of UAC and Gordon Tapper, Founder and Chairman of GTAH. Dr Judy Kuriansky, Main UN representative, International Association of Applied Psychology and member of the Friars Club, was a key organizer of the event and made possible the use of space at the Friars Club.
  Luncheon Programme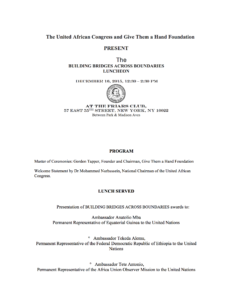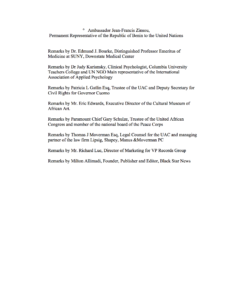 ---